How to Wash and Take Care of Your Hair.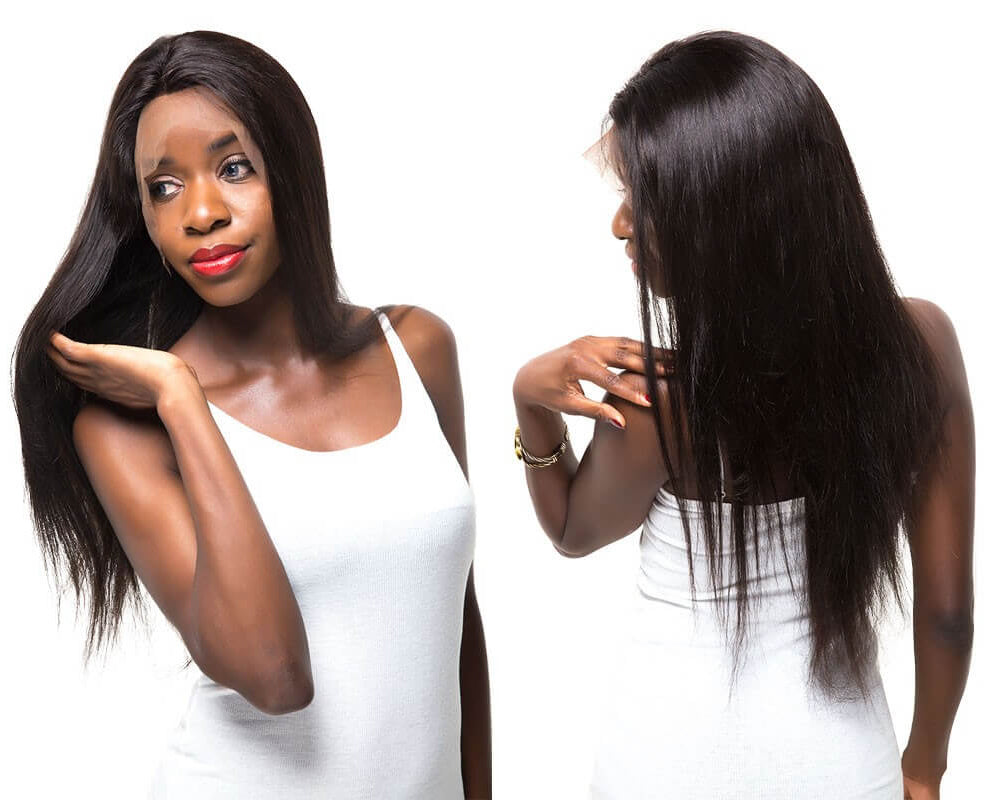 ---How To Clean My Transparent Lace Wig On Head?
It is very important to wash the transparent lace wig regularly. Not only can keep the 13x4 transparent lace wig clean but also it is the key point to care for one human hair lace wig. When you received new Brazilian lace front wigs, we usually wash it before install our head. Most of the African women know how to wash transparent lace front wig before installing. While do you know how to wash your lace front wig Brazilian hair when your lace wig is on your head? Go ahead reading this blog, you will get the right answer.

The way to wash transparent lace wig whiles on head.

Once you installed your transparent lace wig, it is necessary to clean your human lace wig every two weeks. How to wash your affordable 13x4 lace front wig, below will give you the detailed steps.

Before wash your lace wig. You need to prepared some items: a bowl of warm water, a bottler top quality shampoo, a bottle of deep conditioner, one wide-tooth comb, a bottle of argan oil or olive oil.

Step 1. Before soaking your hair into the warm water, you need to make sure your lace wig glue attach on your forehead firmly without any loosen.

Step 2. Apply your shampoo into the warm water then use your finger to stir it, let the shampoo dissolved completely. Then soak your transparent lace wig into the water totally and wet all the hair on your lace wig. Using your finger rubs your hair gently for about 2-5 mins. Make sure the dust get rip of your scalp and your lace wig cleaned.

Step 3. Pour out the dirty warm water then change a blow of clean water, soak you body wave transparent lace wig into the clean water and wash it your human lace wig until the bubble get away from your hair.

Step 4. Apply your quality hair deep conditioners on your hd transparent lace front wig. Then use your finger to massage your scalp for 2-3 mins. Let the deep conditioner penetrate you hair totally.

Step 5. After past 3mins then you can use the warm water clean you transparent lace wig until there is any deep conditioner attach on your hair.

Step 6. After cleaning your lace front wig, use one clean towel wrapped 13x4 body wave lace front wig gently. Let the towel absorb the water on the head.

Step 7. You can put your transparent lace wig on one model head or flat on the clean towel and let the full lace wig Brazilian hair air dry. We do not suggest using the blow dry the hair that will damage the virgin human hair.

Step 8. After the hair is dry, you can apply some argan oil or olive oil on your transparent lace wig. It will help you make your lace front wig looks more shine and smooth.

Step 9. Now it's time to style your transparent lace wig.

We all know that human hair lace wig is expensive, so that we should take care of our transparent lace wig, as long as you treat your lace wig as your own your hair, it will last longer.

<p >lace frontal wig frontal lace wig short human hair wigs curly human hair wig bob human hair lace front wigs bob lace front wigs hd lace wig water wave wig
---Preparation Work Before Washing The Body Wave Hair
Firstly, we should prepare something before washing the body wave human hair wigs. The preparation things are listed below.

The high-quality hair washing shampoo: The hair shampoo you prepared should be soft, strong cleaning, the harmful chemical elements shouldn't included in the shampoo. It will be best if the shampoo has the ability to moisturize and nourish hair. Low-quality hair shampoo may contain some harmful material hence damage the Peruvian body wave hair, you should pay attention to the quality of the hair washing shampoo.

The appropriative hair conditioner: You can choose the hair conditioner that matches the hair shampoo you use.

A clean and dry towel: It is best to choose the towel with the soft material, it will not damage the hair when scrubbing the wet body wave hair.

A wide teenth comb: The wide teeth comb is essential for wavy human hair, it is used not only for the body wave hair bundles but also used for the natural wave hair, curly human hair, kinky human hair, loose deep human hair bundles, loose wave human hair bundles with closure, and other popular wavy human hair wigs.

The hair care essential oil: The choosing standard of the essential oil is similar to the hair shampoo and hair conditioner, it should be good to protect the body wave hair with closure.
How To Wash The Body Wave Hair Step By Step
Then, we will introduce how to wash the body wave weave human hair step by step.

* Before cleaning, you should make your body wave human hair smoothly, you'd better comb your body wave hair sew in from the hair end to the hair root with the wide teeth or your finger, the purpose of this step is making your real body wave human hair tangle free and No shedding, smooth and convenience to wash. This step is important since the tangle hair will difficult to comb when you wetting your body wave weave hair, hence cause the damage and shedding to your body wave hair extensions.

* Wetting hair, wet your body wave long hair with the moderate water by bending forward your head. Not use the hot water since the hot water will scald your Indian body wave hair. You can wet your hair from the backside of the head, the head edge, to the top of the head until your head is completely wetting.

* Applying hair shampoo, the procedure of using the moisturizing shampoo is just as you wetting your hair. Evenly spread the hair shampoo to your head, then gently massage your scalp and your body wave hair, until the lather is spreading on your head, then repeat this massage action about one minute, the dirty, grease, hair oil will be removed from your Brazilian body wave hair. Then rinsing your body wave hairstyles with the clean water until all of the lather is swill out from your hair.

* Apply the good quality hair conditioner, doing this action in a downward motion. Making the hair conditioner is evenly spread on your hair, keep the hair conditioner on your hair about one to two minutes, then rinsing your hair clean. You should make sure you have washed out your body wave short hair, accumulation products are not friendly to your short body wave hair and body wave long hair.

* Drying hair, at this step, the clean and dry towel should be used. Cover your wet body wave weave human hair with the clean towel, extrude the water from your hair gently. But the towel definitely can't absolutely dry the wet body wave human hair wig, until there isn't so much water dripping from the hair, release the Peruvian body wave hair, go to a well-ventilated area, let the body wave hair bundles drying by air. But you should avoid direct sunlight when your body wave hair with closure is wet.

* Styling your body wave human hair. Curling your body wave hair sew in after washing with your finger, or a low power hairdryer, applying some drops of hair care essential oil to protect the healthy condition of the body wave weave hair.

After washing your body wave hair extensions according to the above steps, you will own the most fashionable and popular body wave hairstyles in the market.
---How To Maintain Loose Deep Wave Wig
Loose deep wave hair always gives us a gorgeous look. It makes us more beautiful, especially for black women. A gorgeous hair is not just good luck. It is something that you need to work for, care for, and cherish. It represents a woman's unique style and personality, as well as her health and history. In order to maintain this beauty forever, let's talk about how to maintain loose deep wave hair today.
The hair is very fine, except that it still needs to be taken care of, so that it can stay longer and look better.
Loose deep wave hair requires more care than other types of hair because of the curls that need to stay in place for the entire lifespan of the hair.
We will help you master how to keep loose deep wave hair and keep it looking like it from the very beginning.
What Is Loose Deep Wave Hair?
The name of loose deep wave hair sounds like a combination of loose wave and deep wave. In fact, they are different curls, but they are very similar. It's curl is between loose wave and deep wave. Many times this are confused with loose wave and deep wave.
Women's hair is of great importance. If you have a very good hair style, you will give a very good impression to others. A beautiful hairstyle will bring a good day.
It can enhance your beauty
This will give you confidence
It complements your features
A bad haircut affects you more than you think.
You will feel smarter and more capable
A good hairstyle can even be paired with a simple dress
This shows that you take care of yourself
Your hair will make people remember you
In addition, hair is more important for black women to show their beauty. They must take care of their hair, whether it is loose deep wave or curly hair. Generally speaking, your hair can be used for one or two years, depending on how you take care of it.
How To Maintain Loose Deep wave
Need tools
Shampoo
Conditioner
Wide tooth comb
Hair dryer
Hair care essential oil
Cleaning Loose Deep Wave Hair
In order to maintain the health of the loose deep wave hair, we must first ensure that the hair is clean. Regular and correct time to clean hair is important for healthy hair and scalp. Different scalps require different cleaning frequencies. If you are oily scalp, you can wash it several times a week. If your scalp is dry, you should clean your hair no more than once a week, not less than once every two weeks.
Use a gentle shampoo and comb slowly from the ends, then from the scalp to the ends. Do not rub your hair or pile your hair on your head.
Sleeping care is very important too if you use a wrong sleeping care way, your hair may become dry, clutter and change the curls.
We suggest tying your hair to one side, then use a satin bonnet cap to cover your hair during the sleeping night. Pay attention not directly press your hair during the night.
 Dye, Heat Or Bleach Care
 EverGlow hair is the best loose deep wave hair, 100% virgin Remy human hair with no other chemical procedures, can be dyed, bleached and other heat restyled.
But it will damage your hair if you restyle it in a wrong way, so we suggest going to your hairstylist for help if you want to dye or bleach your hair, and got some care advice from your hairstylist.
 Maintain your hair regularly.
* Minimize heat treatment to avoid damage.
* Consulting in time for some problems.
Care Loose Deep Wave
After each cleaning, take care of your loose deep wave hair, taking care not to skip this step. Choose the right conditioner for your hair. Make sure to use shampoos and conditioners that are suitable for loose deep wave hair.
Under normal circumstances, like our own natural hair, the ends of the curls are most prone to dryness and damage. They are the oldest hair. Please use more conditioner on the ends. Put the conditioner on your hair for at least five minutes. For hair that is severely damaged or usually dry, we can increase the time to 15 or 20 minutes.
Keep Hairstyle
When washing your hair, be sure to comb your hair with your fingers. Then comb the hair with a wide-toothed comb. Because this can reduce tangles and does not cause hair to fall off. As with all hairstyles, when you comb your loose deep wave, be sure to start from the tip and slowly comb up to the hair root. Please avoid combing the hair with a fine tooth.
To dry the hair at a low temperature with a hair dryer, we recommend using a hair curler to shape the hair. This will keep your hair style longer. We do not recommend straightening the hair as this may destroy the curls.
Read our blog to learn more about your nursing skills and make your loose deep wave hair more beautiful. If you have any questions, please comment below.
Some thing really important for your Loose Deep Wave Hair
* Wash your hair once a week.
* Using your finger comb your hair smoothly before washing, ensure your hair is tangling free.
* Washing your hair with mild water.
* Suggest using a pre-conditioning treatment before using the shampoo, in order to keep the hair moisturized.
* Massage your scalp gently, don't rude to your hair during washing.
* Dry your hair with a clean towel, not wring your hair. Just use the towel to blot up the water from your hair. Then use the natural air for drying, avoid using the electric hair drier.
How To Maintain Your Deep Wave Hair?
Wash Deep Wave Hair
Suggest using a hair conditioner before washing, and make sure your hair doesn't tangle before washing, you can comb the hair from the ends then slowly comb from the top to end. Shampooing your deep wave hair correctly can be one of the biggest factors in how long your waves last. This process starts before you even get in the shower. You'll want to comb your hair with a finger comb to minimize tangles. This will allow you to get a proper wash without any tearing. You can also utilize a pre-conditioning treatment before you wash in order to reduce your drying time.
Brush Your Deep Wave Hair
We do not recommend that you brush your deep wave human hair, even with a paddle brush. This is because the curls will be unwound through brushing. Instead, please use a wide-tooth finger comb to manage and style the hair. 
Taking care of your loose wave lace front wig is very essential. Most of the users face problems while washing their loose wave lace frontal wig. Well, if you are one of such users, here are some tips for you.

---How To Wash Your Loose Wave Lace Front Wig Human Hair While Taking A Shower
Sometimes you have to wear your loose wave lace front wig human hair for several days when you are out on a holiday vacation or a business trip. You do not want to or have no time to put on your loose wave lace front wig every morning but you wish to keep your hair clean, so you need to wash your wig while keeping it on your head.

Firstly, be certain that the adhesive is still intact on your head and that there is no peel-up, particularly around your edges. If your wig is already beginning to come off, washing it while on your head is not a good choice. Next, be aware of your natural hair's length. If your natural hair below your wig is only an inch or two long, it will quickly dry. On the other hand, if your natural hair is lengthy, then it will take more time to dry properly below your wig. Remember this and do not forget it.

Lastly, tip your head back in the shower and gently wet it. You always need the water to be flowing down from the rear part of your head, since that is gentler on your bonds, particularly in the front. If you stand facing the shower so that the water hits your wig directly, the water might pull them loose. Lather your loose wave lace frontal wig very gently with the help of a shampoo made for fragile hair or a shampoo especially for wigs. You only require one wash in order to get rid of the oil that has built up over the last few days.

Tips While Washing Your Loose Wave Lace Frontal Wig In The Shower
Do not intensely scrub the roots of the wig. You may end loosening the wig. Rinse smoothly and feel with your fingers to ensure that all of the shampoos is out. Gently pat your hair dry after your shower. Check the bond to see if it's begun to come loose or if it's still tight. The adhesive may have turned white in the shower, but you will know when you are done drying your hair since the adhesive will turn clear after you dry it.

Conclusion
Long story short, you just had a look at how to wash your loose wave lace front wig human hair while taking a shower and tips while washing your loose wave lace frontal wig in the shower. I hope the article was helpful to you.
As with all styles, when brushing your deep wave hair bundles with lace closure, always start from the tips of the hair, gently working your way up towards the roots. Please avoid combing your hair with fine-tooth combs.
---